It was a hot and humid evening inside the Hangar when the two teams lined up for the championship match.  After a ceremonial photo with the trophy, the game kicked off.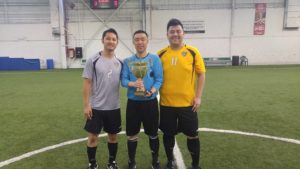 The intensity level was high from the get-go and neither team was giving an inch to the other.  The first goal came through Seamus Lynott who shot a left footer low to the corner of the net.  Lightning carried that 1-0 lead into the second half.  The fans were wondering how Direwolves would react to being down 1-0 and they answered in fine fashion.  Within five minutes they were level after Ozan Durukan slotted home the tying goal.
It wasn't too long after the tying goal that Lightning re-took the lead.  A cross was played into the area where Aaron St. Bernard connected with a ducking header that hit the bottom of the crossbar and went in.  It would've been a fine championship winning goal had Direwolves not had other plans.  Alex Wong was covering every inch of the pitch and a mazy run resulted in another goal, it was now 2-2.  Nobody wants to see a championship decided on penalties, neither the players nor the fans.  In the dying minutes of the game, Seamus found some space on the flank and put in a cross to Dillon Suresh who rose above everyone else on the field to power home a header.  Lightning Strike FC are the 2017/18 Teachers' Indoor Soccer League champions!
Lightning and Direwolves were the two best teams this season.  The final lived up to the hype and it was a joy to watch from the sidelines.  Thank you to both teams.
Thank you to all the players in the league for a great season.  Thank you to all the captains for their dedication to making this league so successful.  Have a great summer and see you all in the Fall!